Amazon Prime Video & Netflix – Neues im Februar 2021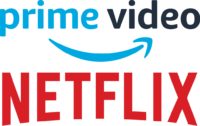 Wie jeden Monat bieten Amazon Prime Video und Netflix auch im Februar wieder Nachschub an neuen Serien und Filmen.
Bei Amazon Prime gibts neben vielen neuen Filmen unter anderem auch Serien-Nachschub: Shameless Staffel 10, The Flash Staffel 6 und DC's Legends of Tomorrow Staffel 5. Bei Netflix dürfte die erste Staffel von Tribes of Europa ganz interessant werden.
Amazon Prime Video
Neue Serien & Staffeln
8. Februar 2021: Soulmates – Staffel 1
12. Februar 2021: The Family Man – Staffel 2 (Original)
17. Februar 2021: DC's Legends of Tomorrow – Staffel 5
19. Februar 2020: Wir Kinder vom Bahnhof Zoo – Staffel 1 (Original)
19. Februar 2021: El Internado – Staffel 1
24. Februar 2021: Shameless – Staffel 10
28. Februar 2021: The Flash – Staffel 6
Neue Filme
1. Februar 2021: Spider-Man 3
1. Februar 2021: Mein Blind Date mit dem Leben
1. Februar 2021: Dreamgirls
5. Februar 2021: Der Kaufhaus Cop 2
5. Februar 2021: Bliss (Original)
6. Februar 2021: Wird beide
6. Februar 2021: Coyote Ugly
8. Februar 2021: Im Netz der Gewalt
8. Februar 2021: Zu weit weg
8. Februar 2021: Monuments Men – Ungewöhnliche Helden
9. Februar 2021: Ma
10. Februar 2021: Grease
10. Februar 2021: Johnny English – Jetzt erst recht
11. Februar 2021: Battleship
12. Februar 2021: Transformers
12. Februar 2021: Transformers – Die Rache
12. Februar 2021: Transformers – Dark of the Moon
12. Februar 2021: Transformers – Ära des Untergang
12. Februar 2021: The Map of Tiny Perfect Things (Original)
12. Februar 2021: Songbird
14. Februar 2021: Robert The Bruce – König von Schottland
14. Februar 2021: Schlussmacher
15. Februar 2021: A Billion Stars – Im Universum ist man nicht allein
15. Februar 2021: Jack Reacher
19. Februar 2021: Christiane F. – Wir Kinder vom Bahnhof Zoo
19. Februar 2021: Christiane F. und die Kinder vom Bahnhof Zoo
19. Februar 2021: T2 Trainspotting
22. Februar 2021: Der große Trip – Wild
22. Februar 2021: Code Ava – Trained To Kill
23. Februar 2021: Der Sternwanderer
24. Februar 2021: Little
24. Februar 2021: The Dead Don't Lie
26. Februar 2021: World War Z
28. Februar 2021: The Kid – Der Pfad der Gesetzlosen
28. Februar 2021: Enemy Lines: Codename Feuervogel
28. Februar 2021: The 2nd – Im Fadenkreuz der Söldner
Kids
3. Februar 2021: Home – Ein smektakulärer Trip
16. Februar 2021: Mina und die Traumzauberer
18. Februar 2021: Die Schlümpfe – Das verlorene Dorf
21. Februar 2021: Der SpongeBob Schwammkopf Film
21. Februar 2021: SpongeBob Schwammkopf: Schwamm aus dem Wasser
24. Februar 2021: Shaun das Schaf der Film
25. Februar 2021: Pets 2
Netflix
Serien
2. Februar 2021: Kid Cosmic – Staffel 1
2. Februar 2021: Mighty Express – Staffel 2
3. Februar 2021: Immer für dich da – Staffel 1
5. Februar 2021: H: Staffel 2
5. Februar 2021: Unsichtbare Stadt– Staffel 2
10. Februar 2021: Run On – Staffel 1
11. Februar 2021: Capitani – Staffel 1
12. Februar 2021: Nadiyas Backwelt – Staffel 1
12. Februar 2021: Bestattungen à la Bernard – Staffel 1
15. Februar 2021: The Crew – Staffel 1
17. Februar 2021: Sie weiß von dir – Staffel 1
19. Februar 2021: Lovestruck in the City– Staffel 1
19. Februar 2021: Tribes of Europa – Staffel 1
24. Februar 2021: Ginny & Georgia – Staffel 1
24. Februar 2021: Eine Schule für jeden Hund – Staffel 1
27. Februar 2021: A Love So Beautiful – Staffel 1
Filme
1. Februar 2021: Bridget Jones' Baby
3. Februar 2021: Baywatch
3. Februar 2021: Meine Freunde sind alle tot
3. Februar 2021: Godzilla II: The King of the Monsters
5. Februar 2021: Der letzte Paradiso
5. Februar 2021: Little Big Women
5. Februar 2021: Malcom & Marie
5. Februar 2021: Space Sweepers
5. Februar 2021: The Yin-Yang Master: Dream Of Eternity
10. Februar 2021: Neues aus der Welt
10. Februar 2021: En passant pécho – Zwei Dealer in Paris
11. Februar 2021: Layla Majnun
11. Februar 2021: Red Dot
11. Februar 2021: Liebe²
12. Februar 2021: To All The Boys: Always And Forever
12. Februar 2021: Xicos Weg
16. Februar 2021: The Danish Girl
16. Februar 2021: Du gegen die Wildnis – Der Film
20. Februar 2021: Classmates Minus
22. Februar 2021: Der Goldene Handschuh
25. Februar 2021: Geez & Ann
26. Februar 2021: Verrückt nach ihr
25. Februar 2021: Mit den Wellen
25. Februar 2021: The Girl on the Train
Dokus
5. Februar 2021: Die heilende Kraft des Entblößens
10. Februar 2021: Verschwunden: Tatort Cecil Hotel
23. Februar 2021: Pelé
Comedy
2. Februar 2021: Tiffany Haddish Presents: They Ready: Staffel 2
12. Februar 2021: Dani Rovira: Hass
23. Februar 2021: Brian Regan: On The Rocks
Anime
18. Februar 2021: Thus Spoke Kishibe Rohan
25. Februar 2021: High-Rise Invasion