Amazon Prime Video & Netflix – Neues im Juni 2022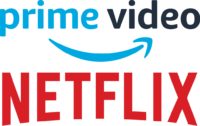 Nachfolgend findet ihr alle neuen Serien und Filme von Amazon Prime Video und Netflix für den Juni 2022.
Auch diesen Monat gibts bei Netflix wieder deutlich mehr Nachschub als bei Amazon Prime Video. Dort startet diesen Monat die dritte Staffel von The Boys mit einer Folge pro Woche.
Bei Netflix gehen unter anderem die dritte Staffel von The Umbrella Academy und die sechste Staffel von Peaky Blinders an den Start.
Viel Spaß beim Streaming!
Amazon Prime Video
Neue Serien & Staffeln
01. Juni: This Is Us – Staffel 6
03. Juni: The Boys – Staffel 3
10. Juni: Fairfax – Staffel 2
10. Juni: Guilty Minds – Staffel 1
17. Juni: The Pogmentary: Born Ready – Staffel 1
17. Juni: The Lake – Der See – Staffel 1
17. Juni: The Summer I Turned Pretty- Staffel 1
24. Juni: Chloe
24. Juni: The One That Got Away – Staffel 1
Neue Filme
01. Juni: Valley Girl
01. Juni: Wedding Crashers
02. Juni: Halvdan Viking
03. Juni: Bevor der Winter kommt
03. Juni: I'm Not Rappaport
06. Juni: Das Mädchen mit dem Diamantenohrring
07. Juni: Lethal Weapon 1
07. Juni: Lethal Weapon 2
07. Juni: Lethal Weapon 3
07. Juni: Lethal Weapon 4
09. Juni: Beckenrand Sheriff
10. Juni: Im Auge des Sturms
11. Juni: Never Rarely Sometimes Always
12. Juni: Pokémon Meisterdetektiv Pikachu
13. Juni: Mit ganzer Kraft
14. Juni: Die Schule der magischen Tiere – Teil 1
14. Juni: Miss Undercover
14. Juni: Miss Undercover 2
16. Juni: Paris um jeden Preis
17. Juni: Kick Like Tayla
18. Juni: Margarete, Queen of the North
19. Juni: Kaltes Blut – Auf den Spuren von Truman Capote
19. Juni: Kung Fu Panda 3
20. Juni: Private Peaceful: Mein Bruder Charlie
22. Juni: Kajillionaire
23. Juni: Kill the Boss 2
24. Juni: My Fake Boyfriend
25. Juni: Shelter – Auf den Straßen von New York
29. Juni: Auf und Davon
Neue Titel zum Kaufen und Leihen
Phantastische Tierwesen: Dumbledores Geheimnisse zum Kaufen ab 31. Mai, zum Leihen ab 31. Mai
Der Wolf und der Löwe zum Kaufen ab 02. Juni, zum Leihen ab 16. Juni
Morbius zum Kaufen ab 02. Juni, zum Leihen ab 23. Juni
Spencer zum Kaufen ab 10. Juni, zum Leihen ab 01. Juli
Sonic the Hedgehog 2 zum Kaufen ab 14. Juni, zum Leihen ab 14. Juli
Matrix Resurrections zum Kaufen ab 16. Juni, zum Leihen ab 07. Juli
The Northman zum Kaufen ab 23. Juni, zum Leihen ab 07. Juli
Downton Abbey II: Eine neue Ära zum Kaufen ab 30. Juni, zum Leihen ab 14. Juli
Netflix
Serien
27. Mai: Stranger Things – Staffel 4, Teil 1
30. Mai: Der kleine Bheem: besonders stark am Taj Mahal – Staffel 1
02. Juni: Borgen: Macht und Ruhm – Staffel 1
03. Juni: Der Boden ist Lava – Staffel 2
03. Juni: Der Vogel und die Löwin – Staffel 1
03. Juni: Zwei Sommer – Staffel 1
03. Juni: Green Mothers' Club – Staffel 1
06. Juni: My Liberation Notes – Staffel 1
08. Juni: Befruchtet – Staffel 1
09. Juni: Rhythm + Flow: Nouvelle École – Staffel 1, Folgen 1-4
10. Juni: First Kill – Staffel 1
10. Juni: Rein privat – Staffel 1
10. Juni: Peaky Blinders – Gangs of Birmingham – Staffel 6
15. Juni: Iron Chef – Quest for an Iron Legend – Staffel 1
15. Juni: God's Favorite Idiot – Staffel 1
15. Juni: Maldivas – Staffel 1
16. Juni: Rhythm + Flow: Nouvelle École – Staffel 1, Folgen 5-7
16. Juni: Liebe und Anarchie – Staffel 2
17. Juni: You Don't Know Me – Staffel 1
17. Juni: Guerra de vecinos – Staffel 2
17. Juni: She – Staffel 2
22. Juni: Snowflake Mountain – Staffel 2
22. Juni: The Umbrella Academy – Staffel 3
23. Juni: Rhythm + Flow: Nouvelle École – Staffel 1, Folge 8
23. Juni: First Class – Staffel 1
23. Juni: Queen Sylwester kehrt zurück – Staffel 1
24. Juni: Haus des Geldes: Korea – Staffel 1
24. Juni: Man Vs Bee – Staffel 1
26. Juni: The Blacklist – Staffel 9
29. Juni: The Upshaws – Staffel 2, Teil 1
29. Juni: Adak: Alaskas Schatzinsel – Staffel 1
Filme
01. Juni: Resident Evil: Apocalypse
01. Juni: Resident Evil: The Final Chapter
01. Juni: Resident Evil: Extinction
01. Juni: Resident Evil: Afterlife
01. Juni: Resident Evil: Retribution
01. Juni: Julia
01. Juni: The Boy Next Door
01. Juni: Jesus liebt mich
01. Juni: Der Dummschwätzer
03. Juni: Interceptor
08. Juni: Hustle
10. Juni: Trees of Peace
10. Juni: Hühnerhase und der Hamster der Finsternis
15. Juni: Herzensparade
15. Juni: Centauro
15. Juni: Die Strafe Gottes
16. Juni: Collision
17. Juni: Der Spinnenkopf
20. Juni: Eine dem Untergang geweihte Liebe
22. Juni: Love & Gelato
24. Juni: The Man from Toronto
24. Juni: Beauty
24. Juni: Glamour Girls
24. Juni: The Gentlemen
28. Juni: Blasted
Dokus
03. Juni: Eirik Jensen: Polizist oder Gauner? – Staffel 1
08. Juni: Gladbeck: Das Geiseldrama
08. Juni: Sei lieb – Bete und gehorche – Staffel 1
14. Juni: Jennifer Lopez: Halbzeit
15. Juni: Web of Make Believe: Tod, Lügen und das Internet – Staffel 1
16. Juni: Toma Ikuta und die Kunst des Kabuki
17. Juni: The Martha Mitchell Effect
19. Juni: Ben Crump, Anwalt für Bürgerrechte
21. Juni: Was bringt die Zukunft für – Staffel 1
22. Juni: Die verborgenen Fähigkeiten unserer Haustiere – Staffel 1
Anime
18. Juni: SPRIGGAN – Staffel 1
30. Juni: Bastard!! Der Gott der Zerstörung – Staffel 1
Comedy
02. Juni: Yuri Marçal: Ledo Engano
06. Juni: Bill Burr presents Friends Who Kill
07. Juni: That's My Time With David Letterman – Staffel 1
09. Juni: Stand Out: Wie queere Stand-up-Comedy die Gesellschaft veränderte
10. Juni: Dirty Daddy: The Bob Saget Tribute
11. Juni: Amy Schumer's Parental Advisory
13. Juni: Pete Davidson presents The Best Friends
14. Juni: Jane Fonda & Lily Tomlin: Ladies Night Live
16. Juni: Snoop Dogg's F*cn Around Comedy Special
21. Juni: Joel Kim Booster: Psychosexual
22. Juni: Bruna Louise: Abriss
23. Juni: Best of the Fest
28. Juni: Cristela Alonzo: Middle Classy
Kids & Family
03. Juni: Surviving Summer – Staffel 1
06. Juni: Action Pack – Staffel 2
13. Juni: Charlies Formen und Farben: Charlies tolle Filmabenteuer
13. Juni: Charlies Formen und Farben: Frau Wetter und Freunde
16. Juni: Karmas Welt der Musikvideos – Staffel 2
16. Juni: Dead End: Paranormal Park – Staffel 1
24. Juni: Angry Birds: Verrückter Sommer – Staffel 2
27. Juni: Chips und Toffel: Chips macht Urlaub – Staffel 1
30. Juni: Sharkdog – Staffel 2