Amazon Prime Video & Netflix – Neues im August 2021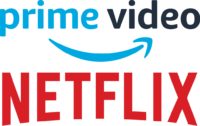 Amazon Prime Video und Netflix haben die neuen Releases für August bekannt gegeben.
Bei Amazon fällt der Nachschub nicht ganz so üppig aus, aber es finden sich unter anderem die erste Staffel der neuen Serie "Cruel Summer", und die zweite Staffel von "Star Trek: Lower Decks" im Portfolio. Außerdem neu ist die "The Dark Knight"-Trilogie von Christopher Nolan.
Netflix bietet im August mehr Neuigkeiten. Unter anderem gibts den lang ersehnten Anime-Film "The Witcher: Nightmare of the Wolf" und die Dokumentation "Shiny_Flakes: The Teenage Drug Lord" zu sehen.
Amazon Prime Video
Neue Serien & Staffeln
06. August 2021: Cruel Summer – Staffel 1
12. August 2021: Star Trek: Lower Decks – Staffel 2
13. August 2021: Modern Love – Staffel 2
20. August 2021: Nine Perfect Strangers – Miniserie
27. August 2021: Kevin Can F**K Himself – Staffel 1
Neue Filme
03. August 2021: Straight Outta Compton
11. August 2021: Drachenzähmen leicht gemacht 2
13. August 2021: Evangelion: 3.0+1.01 Thrice Upon a Time
13. August 2021: Batman v Superman: Dawn of Justice
16. August 2021: Ready Player One
19. August 2021: Killer's Bodyguard
20. August 2021: The Danish Girl
21. August 2021: Kong: Skull Island
25. August 2021: Ted 2
30. August 2021: Der seltsame Fall des Benjamin Button
31. August 2021: Batman Begins
31. August 2021: The Dark Knight
31. August 2021: The Dark Knight Rises
Netflix
Serien
1. August 2021: Arrow – Staffel 8
1. August 2021: Kommissar Wallander – Staffel 1
1. August 2021: Hubert ohne Staller – Staffel 9
3. August 2021: Top Secret UFO Projects: Declassified – Staffel 3
4. August 2021: Control Z – Staffel 2
4. August 2021: Car Masters – Von Schrott zu Reichtum – Staffel 3
4. August 2021: Cooking With Paris – Staffel 1
6. August 2021: Hit & Run – Staffel 1
6. August 2021: Navarasa – Neun Emotionen – Staffel 1
9. August 2021: Shaman King – Staffel 1
10. August 2021: Gabby's Dollhouse – Staffel 2
10. August 2021: I Need Romance – Staffel 1
11. August 2021: Bake Squad – Staffel 1
12. August 2021: AIRawabi School for Girls  – Miniserie
13. August 2021: El Reino – Dein Reich komme – Staffel 1
13. August 2021: Kein Lebenszeichen – Staffel 8
13. August 2021: Fast & Furious 5: Spy Racers – Staffel 5
13. August 2021: Brand New Cherry Flavor – Staffel 1
13. August 2021: Valeria – Staffel 2
20. August 2021: Everything will be fine – Staffel 1
20. August 2021: Die Professorin – Staffel 1
25. August 2021: Open Your Eyes – Staffel 1
25. August 2021: Clickbait – Staffel 1
25. August 2021: Motel: Makeover
25. August 2021: Post Mortem: In Skarnes stirbt niemand – Staffel 1
26. August 2021: Familienanhang: Teil 4
26. August 2021: Titletown High – Staffel 1
31. August 2021: Glück und Freude mit Marie Kondo
31. August 2021: Good Girls – Staffel 4
Filme
01. August 2021: Creed II: Rocky's Legacy
01. August 2021: Looney Tunes: Back in Action
01. August 2021: World Trade Center
01. August 2021: Grace: Besessen
01. August 2021: Stephen Kings Schlafwandler
01. August 2021: Crash Pad
01. August 2021: Tyler und Jack: Time and Tide
01. August 2021: I Missed You
01. August 2021: Jump
02. August 2021: The Good Liar: Das alte Böse
04. August 2021: Aftermath
06. August 2021: Schwarm der Schrecken
06. August 2021: Quam's Money
06. August 2021: Vivo – Voller Leben
07. August 2021: Takizawa Kabuki ZERO 2020 The Movie
09. August 2021: Birds of Prey: The Emancipation of Harley Quinn
09. August 2021: Just Mercy
11. August 2021: The Kissing Booth 3
13. August 2021: Beckett
15. August 2021: Only Mine
15. August 2021: Der Glücksbringer
17. August 2021: Angry Birds 2
18. August 2021: Schwarze Insel
18. August 2021: Nicht meine Liga
18. August 2021: Abenteuer au pair
20. August 2021: Sweet Girl
20. August 2021: The Loud House Movie
23. August 2021: Tomb Raider
23. August 2021: Oggy Oggy
27. August 2021: Einer wie keiner
27. August 2021: Alle lieben Arlo
Dokus
03. August 2021: Pray Away
04. August 2021: Cocaine Cowboys: Die Könige von Miami
10. August 2021: Untold: Malice At The Palace – Miniserie
17. August 2021: Untold: Deal With The Devil
18. August 2021: Dennis Nilsen – Memoiren eines Mörders
25. August 2021: Untold: Caitlyn Jenner
25. August 2021: Bob Ross: Glückliche Unfälle, Betrug und Gier
25. August 2021: John of God: The Crimes of a Spiritual Healer
31. August 2021: Untold: Crime and Penalties
Comedy
10. August 2021: Phil Wang: Philly Philly Wang Wang
Anime
01. August 2021: Boruto: Naruto Next – Staffel 1
12. August 2021: Monster Hunter: Legends of the Guild
23. August 2021: The Witcher: Nightmare of the Wolf
26. August 2021: Edens Zero – Staffel 1